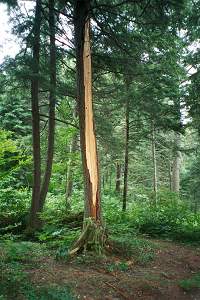 It's a good idea to supplement the floor of your tent with an external waterproof ground sheet laid over fine forest floor litter, just a couple of inches smaller than the tent. Also, its cheaper to periodically replace this than the tent floor itself.
Lightning strikes are a dangerous "long-shot" risk. Check around the campsite. If it's prone to lightning strikes, evidence of this is probably visible. An old pine might be missing its top or have dead upper branches.
Left: This lightning strike occurred immediately behind a campsite on Raven Lake.
Sometimes a lightning strike blows out a section of trunk, flinging about wood and bark. If any of these signs are present, position your tent far from the affected tree and away from any others of the same or greater height.
Tom Yates submitted an interesting trip-log that describes an unfortunate lightning strike right in camp ...
The Yates Group's Booth Lake Trip - August 1996
Another concern involves wind-damaged trees. Make sure there are no uprooted trees leaning toward your tentsite or dead branches over it. Should the wind come up, you don't want to be worried about injury from falling timber.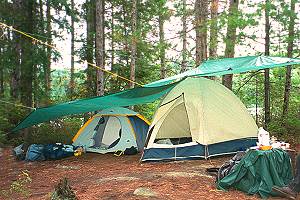 Right: This campsite had sufficient level area to allow the grouping of two tents and the corresponding combination of two tarps.
The balance of your considerations will generally be for ease of use. They include a convenient layout of tents, tarps, and food preparation area relative to the firepit, so as to minimize 'walking about'.
At the same time, its necessary to take into account the sometimes conflicting needs for privacy and socializing.
For reasons of privacy, tents should definitely not be placed close to or in sight of the "thunderbox". Likewise, couples may prefer to have their tents at a distance, on opposite sides of the firepit.
For safety reasons, food-bag tie-ups and the dish-water disposal area should be well away from the tentsites.