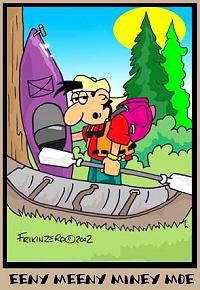 My name is Doug and I think I fall into the rookie category of paddling. I'd like to share my canoe vs. kayak experience with you.
The summer of 2001 was a great summer. I went paddling for 9 days with three new friends. I shared a canoe with Andrew,and soon met up with Bill and his partner ... his dog Sheefee (spelling may be off on that one). Andrew and I were pretty much beginners. Bill was more like the Algonquin Yoda to me.
Not too far after that trip, my wife (Dawn) and myself went on a five day kayak trip in the park. Besides my companion's different appearance, there were some other noticable differences.
Packing was a huge difference. On the kayak trip, we brought a weekend backpack containing our clothes. We had to strap it to my boat. All of our kitchen gear (stove, fuel, pot, etc.) went into my front haul or hatch. Dawn put our sleeping bags tent and tarp into her rear hatch. We put the rest of our gear and food in her front and my rear hatches. We kept our cups, water filter, rain jackets and munchies in our cockpits.
The haul or hatch area is a seperated compartment inside the kayak.One at the bow,and one in the stern of the boat. Water proof walls keep your storage dry if you tip or get hit with a big wave.
In my canoe trip, where everything was in our packs, we could just throw them on our backs to lighten the boats weight at portage time. However, portaging with our kayaks was tough. Even if we had handy kayak carts or yokes, it would still have been worse than the canoe. I would rather have the canoe in these areas any day. Two people throwing a canoe over your head, resting it on your backpack is not so bad. A kayak suitable for a 5 day trip on flat water could weigh from 50 to 65lbs. Plus your gear packed inside adds to this weight. Pushing a kayak on two little wheels over huge rocks, roots and up and down hills is still a pain.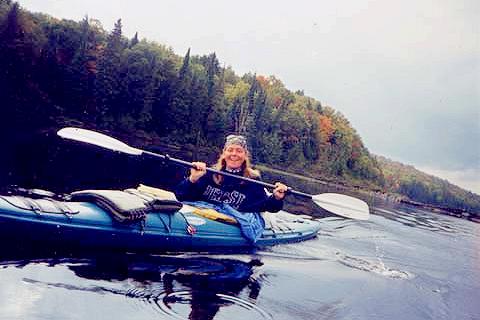 Photo: Dawn splashing her dear husband. This picture reminds me how much fun grown ups can have when the rest of the world ceases to exist. Algonquin does this for us.
The comparison between a canoe's length and that of a kayak is about the same in my situation. My boat is 15'1" and my wife`s is 14' .They come in various lengths to meet individual needs of the paddler. I`m in the process now of making a portable single axle cart to at least give the portage more of a challenge.
On the other hand, the speed on the water (without even trying) was definately different. We did over 20 miles (3 portages included) in one afternoon. Some of this was against the wind and in some pretty big waves. I was told by a very experienced paddler, you don`t need a rudder if you know how to paddle. It`s an extra expense and it`s mechanical, so it will eventually break and need repairs. Also your foot pedals are softer with a rudder. We use these pedals for support and balance. If they were softer, it could cause a loss in stability.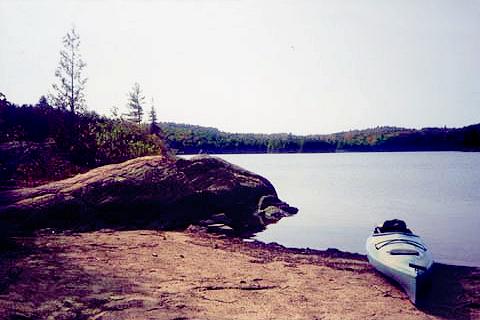 Photo: This is my boat resting on a small sandy piece of beach on an island in Clydegale Lake. I went off exploring and I found peace. It was cool.
When paddling alone, kayaks offer a great amount of control with very little effort or paddling knowledge. Despite what you may think or have seen on TV, I find kayaks to be more stable than canoes, especially in the waves. The Algonquin rains were no problem for Dawn and I, with a rain jacket and our spray skirts on. It was comfortable and I truly enjoyed myself paddling in the rain.
My favourite thing about kayaking in Algonquin with my wife was the independance. If I wanted to check out something along the shoreline, Dawn could continue playing with the loon in the middle of the lake. And paddling beside her made me feel more "together" than having her sit in front of me. It's easier to share a map, a cup of water and I get to see her enjoying herself ... instead of looking at the back of her head. Not to mention, I can lean over a steal a kiss without tipping the boat!
If we were in Algonquin right this minute, I would have to go for it in my kayak. But every portage I would wish for a canoe.
By: Doug Vance <!of> <!A HREF="http://www.frikoutdoors.com" target="_blank"><!b><!Frik Outdoors™><!/b><!/A>