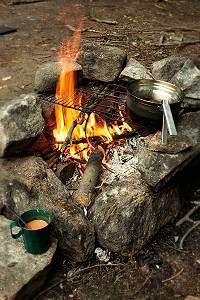 Campfire Grill:
Someone once designed a heavy wrought-iron campfire grill and each Algonquin interior campsite is usually equipped with one of them. Part of one is visible in the above photos. They're 16 inches square and come in two heights .. either 12 or 24 inches. They originated when firewood was considered an unlimited resource. Now, they serve best as a fireside seat or food preparation table.
These days, most campfire cooks incorporate an old fridge or barbque grill into the stones across the back of the firepit. There's often a number of these smaller grills left behind at campsites because they become too dirty and bent to repack. If you're worried your site won't have one, snap one up at a yard sale and take it along ... 12 by 20 inches is usually adequate.
When preparing your campfire and grill, there's a few points worth noting.
Pull out the rocks at the upwind end of the firepit and scrape out the ashes down to ground level, safely disposing of them.
Rebuild the pit's sides closer together so that they and its rear can support the grill with just sufficient width for a pair of cooking pots.
Make sure the grill is no more than 10 inches above the ground.
Then lay down a 2 inch rock floor in the firepit.
This will seal off ground moisture and reflect heat upward, both increasing the fire's efficiency.
A top row of rocks serve to secure the grill and to focus flames on the bases of the pots.
A flat rock across the front serves both as an ash barrier and as a place to keep food warm.
By rebuilding a large circular firepit in this fashion, you can reduce firewood consumption by up to 75%.