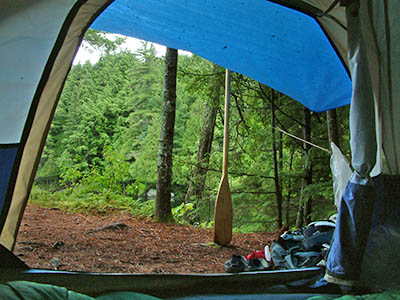 "Shelter ... from the rain ... from the cold ... from the sun ... from the bugs!"
The issue of camping shelters has two opposing concerns.
The first is to take along a large and weather-tight shelter for your leisure and sleeping comfort.
The second concern is to keep your packed shelter as small and light as possible for your carrying comfort. Somewhere between these two concerns is the practical compromise.
Left: The confines of your tent are opened up by the presence of a sheltering tarp's "front porch".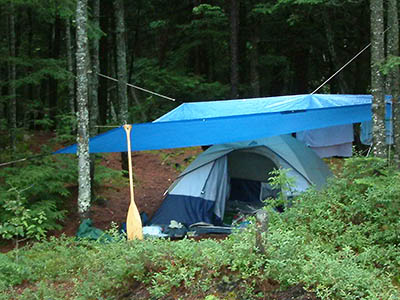 Shelter is not just your tent. It includes the area where you greet the morning, stretch out your legs, struggle to get your boots on, keep your lifejacket dry, store your firewood, sit-out the rain, fire-up your stove for coffee. This is your tent's front porch ... your tarp.
Increasingly, Algonquin's interior campers are relying on tarps to keep rain off their tents and to provide extra shelter.
Right: Without the additional shelter of the tarp, this economical one-person tent would have become a confining, rain-soaked and cold experience.
Typically, a tarp is tied to surrounding trees and roots, extends a foot and a half beyond the rear and sides of the tent ... and projects infront of the tent's front wall as much as it does behind it.