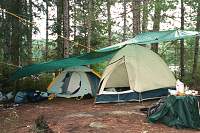 On the uphill sides, you introduce a loose ridge of forest floor debri under the groundsheet's leading edges. When the tent's floor is staked down, this ridge of debri is in the exposed position to receive rain run-off. The porous ridge directs water under the ground sheet and/or around to the similarly equipped sides.
Photo: In this case, the campers each brought along a tent and tarp. By aligning the tarps, they ensured that all run-off would go from the higher tarp to the lower one and then downhill away from the entire tentsite.
Once the run-off completes its journey under and/or around the ground-sheet, whatever hasn't soaked into the ground is on its way downhill away from the tent-site.
When putting up a tarp, its slopes should be positioned to keep run-off away from the uphill sides of the tent-site. If tarp runoff overloads the debri/groundsheet system, it will wash out and be ineffective. When you break camp, it takes only a moment to redistribute the debri. If you're staying at a site for another day and a second storm threatens, you'd be prudent to repair any washed-out ridges under the groundsheet.