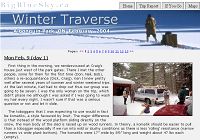 Winter Traverse ( www.BigBlueSky.ca )
In February of 2004, a party of seven people headed out from Kawayaymog Lake and sledded east over North Tea, Manitou, Three Mile, Maple and Erables Lakes .. heading for the Nipissing .. on a two week grand traverse of the park. However, half way into their schedule .. extreme cold, snow conditions and thick brush forced them to fall back to an alternate route. They circled north by way of Mouse, Club and Mink Lakes .. finishing at Kiosk. The lady author is an accomplished (world-class) outdoor traveller. She has produced a superbly written and photo-illustrated account of her trip .. "Winter Traverse" .
"There is a short 420m portage between North Tea and Manitou Lake. It's a gentle up and then down but this change in elevation makes for technical challenges that are new to me. It takes four people to haul the loaded komatik up the incline: one person stands between the traces, three others pull on a long thin rope that has especially attached to the front as a pulling tether. Looks like a chain gang! with the rope over a shoulder, everyone heaves on 'three'. The komatik lurches out of semi frozen ruts and slowly moves up. It takes us 30 minutes to get 6 sleds up 40 meters."