Barron River to High Falls, Sept 2002 . . . by Randy Born
In looking back on life,
One soon realizes or remembers ...
It's the journey and not the destination that really counts in life.

---
Preface
My friend ( Robert McRae ) and I have been trying to annually canoe/fish various parts of Algonquin Park each May for the past 15-20 years. Fishing is generally better in May and we've had bad experiences at other times in the year with mosquitoes and black flies. The month of May may be colder and many times we have had to deal with snow and sleet, but it's still been our preference. Anyway, due to unforeseen family circumstances, we'd missed several of our annual trips and one day my friend called and asked if we could do a fall trip. I suggested that we should try the Barron River to High Falls and return, as I'd previously hiked into these areas with my teenagers and their friends and was looking forward to doing this trip by canoe.

---
Day 1 (Friday)
Our trip started on a Friday morning in Ottawa. Two hours later found us getting our interior permit at the Sand Lake gate office, only to realize that we'd somehow missed the outfitters store before the gate where we were to pick up our rental 16' Kevlar canoe. So back to the outfitter and an hour later we had our canoe loaded and we were ready to depart from the Barron River picnic area starting point, just past the K20 marker on the Barron Canyon Road. The trip to the Barron Canyon itself is rather straight forward and only has one easy 420 meter portage to cross.
Upon reaching the Barron Canyon one's quickly dwarfed amidst the rising walls of stone on both sides of the river. This first part of the trip took us about 90 minutes of easy paddling and portaging. Another hour of easy paddling and portaging takes one to the start of the 740 meter portage from Brigham to Opalescent Lake. The only difficultly we encountered during this leg of the trip was misplacing my hat on the small 100 meter portage at Brigham Lake we were forced to take due to low water levels. This was my favorite green military combat hat. I remembered leaving it on a log when loading the canoe. Upon retracing our steps ten minutes later to retrieve my hat, it was found that the crew we'd just passed on the last part of Bringham Lake must have taken a liking to the hat. It had been seemingly borrowed permanently, since it wasn't turned in at the forestry office.
As we returned back across Bringham Lake, rain started to fall lightly and we welcome the 740 meter portage as we were in the woods and somewhat protected from the rain. Reaching the end of the portage, we both stood under the canoe as it rained harder and we were somewhat in the open again. We could have camped here, as there's a campsite adjacent to the portage. This is not usually desirable to us, and my friend generally has this sense of "Looking at the map , I'm sure the next campsite must be better". I must admit that I'm not always fond of that saying. I've paddled a fair distance in the past, at times in worse weather than that day's rain, only to find a worse camp site. I was a bit leary to push on in the rain. But that day the Gods must have been smiling on us.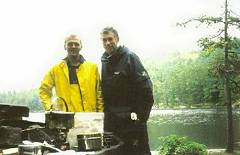 Onward we went in the rain and the next campsite on the right side of the lake about half way down the lake was well worth the trip. If you've never been to this campsite and plan to be on Opalescent Lake, then be sure to at least view it, if it's already occupied. It's a 5-star campsite by any measure. It has a well built fireplace surrounded on one side by stone seating for 5-7 (complete with backrests) and a rock ledge behide the seats to reflect back heat and/or block the wind. We didn't take a picture of the area as it must be seen to be believed.
Photo: Behind us is the view across Opalescent Lake.
It was at this point that I discovered that my rain hood was missing and I really started to not like the folks who borrowed my combat hat that had been waterproofed with silicon spray. We ate a great supper of home made stew followed my tea and cookies. We then scouted the lake by canoe to do some last minute fishing and to gather some firewood for the night fire. Dusk comes early in late Sept and at 9 pm it was generally dark and our fire was underway. It is at these fires, which we refer to as "the one channel TV" that we discuss the days events, decide/plan on what to do tomorrow and lighten our pack weight by consuming some of the precious liquid that we carry in plastic for such occasions at night. Rain became rather heavy around 10:30 and after ensuring the fire was really out we went to bed.
Day 2 (Saturday)
Saturday morning greeted us with sun and wind. We were up by 6:30 a.m. and had a breakfast of porridge, toast, coffee, eggs and bacon. We were packed and ready to go by 9:15 a.m. I was reluctant to leave such a site but we had to move on, as others had reserved these sites in Algonquin interior reservation system .I would not have wanted to disappoint others as I have been disappointed by others who do not honour their reservations and retain campsites that are booked by others. Truth be told, I felt guilty even taking such a beautiful site for just the two of us and was rather glad that no larger group had arrived the day before and found the site occupied by just a group of two.
Today's journey would take us through Ooze lake, High Falls lake and then to St Andrews lake. This trip was rather uneventful except for the group we met on the 650 meter portage from Opalesent to Ooze. We stopped briefly to chat with them at the far end and they enquired about campsites on Opalescent. We described the campsite we had just left, they were already aware of it's grandeur and seemed anxious, knowing it was vacant so early in the morning. They politely excused themselves and quickly organized a team of two with canoe alone to speed ahead and lay claim to the campsite. They were a group of 8 or 9 and I hope they did get that site, as there are not many real sites in the park that can truly handle such a large group comfortably. We proceeded across Ooze Lake. The name describes all that you need know about the lake. We quickly left the stench behind us, not wasting any time getting underway on the 300 meter portage to High Falls Lake. A quick paddle though High Falls Lake, a quick stroll across the 550 meter portage to St Andrews Lake and we started to think about lunch.
It was now about noon and we decided to head up St Andrews Lake and locate a camp for the night. From there we hoped to do a side trip to Marie Lake and to also visit the High Falls waterslide area. Luck seemed to still be on our side, or at least not mad at us, for the first campsite on the right (across from the portage to Marie Lake) was another great campsite for our small group .. complete with two stone chairs and fireplace.
Photo: We had a quick lunch of soup and hot dogs and then set off for Marie Lake with only the canoe and fishing gear. .
I'd been to Marie Lake before and experienced the initial first 200 meters of this carry, so I graciously offered the honor to my friend. I'm sure this portage goes just about straight up for the first 200 meters. When you come upon the forked tree at the top of the last rise, you sure know to rest before the portage flattens out and continues on to Marie Lake. We spent the next 2 hours fishing Marie Lake. My friend caught his 12"/1 lb speck just about right off and volunteered to paddle the remaining time while I spincasted and trolled without any luck. It was approaching 4 pm when we decided to leave if we were still to get to the High Fall water slide area that day. Just as we were about to leave, a family with two small children arrived. The kids were quickly rewarded with jelly-beans by the mom and 3 minutes later the dad appeared and walked into the lake with their canoe on his shoulder and launched it. Great way to avoid scratches and poor lauch sites but not really an option we pursue as the water in May is not so inviting. We chatted for a while, shared some of our licorice with the kids and eventually decided to leave them our catch as they hadn't tasted trout in a while and we still had lots of grub to eat back at camp.
Shortly we were back at camp on St Andrews . It was 5:30 p.m. We decided that with the nice weather we didn't need to set up the tent. Instead we'd sleep out under the stars to save some time. That would allow us to visit the High Falls area if we ate a late supper.
After a quick snack, we headed off and reached the High Fall area about 7:15 p.m. We stayed just a short while and then headed back as it was getting close to dusk. We collected wood on the portage between Stratton and St Andrews Lakes and arrived back with just enough light to cook and eat. We cleaned up by firelight and soon settled down on the rocks to watch our favourite program, have a drink and discuss the day's events. Our supply of wood lasted for about 3 hours and after stirring the coals for one last bit of fire, we brought water from the lake and put the fire out for good. The stars were bright and the weather was great when we turned in.
Day 3 (Sunday)
All was perfect untill about 5 a.m when my buddy not so gently shook my sleeping bag and yells "Its starting to rain!" I wasn't as concerned as him, due to the Gortex bivy-bag I use with my sleeping bag. Because of his insistence, I did get up and help erect the tarp for protection. By this time it was starting to get light.
We had a ways to go that day, so we started the fire with wood we'd saved for breakfast. Soon toast was cooked on the coals. It was followed by coffee, porridge, raisins and granola bars .. an energy breakfast. We set out on our homeward journey shortly after 8 a.m. We had no need for the map, according to my buddy, since we were just backtracking and knew the way we had come. At the end of the first portage it became apparent that we'd turned left when we should have turned right and we'd ended up at the Cascades instead of Ooze Lake. Checking the map , we quickly agreed that this way was better. More paddling but less portaging so we would make the same time.
Our trip out after that was easy and was with the current, so paddling was mostly steering. My buddy specializes in this canoe paddling technique. We stopped at the rock shore in the Barron Canyon area for a snack and then paddled on to the car . We unloaded the canoe at the outfitter's around 4 pm and were back in Ottawa for supper and a good nights sleep in a real bed before going back to work the next day.
---
Randy Born