Algonquin Trip - Koishkokwi - Mouse - Maple - Kioshkokwi (May 1996) . . . by Ken Born
Spring came late this year and we knew before leaving Ottawa that there was a chance that we might encounter our access lake being ice-covered. But 2 of our group were unable to change vacation plans so we decided to make the best of whatever was in store for us. Our group consisted of:
Ken (alias Kincaid)
Randy (alias Munchkin)
Dave (alias McCart)
Terry (alias PH…short for potato head)
On the drive to Kiosk, I was trying to convince the group that the ice was scheduled to go off Kioshkokwi at 6:01 a.m. the next morning, which was fine for our planned 6:00 a.m. start. I even made a small wager with McCart of a loonie that the ice indeed would be off.

---
Day 1:
We arrived at Kiosk at 3:00 a.m. and because of the fog that was present, we couldn't determine if lake was ice-covered or not. McCart and I stepped out of Munchkin's Bronco. I proceeded to find a small rock and throw it out on the lake. With anticipation, we waited for the "kersplash" but instead heard a dull "thud". No words needed to be spoken. I reached into my pocket and pulled out a loonie and handed it to McCart. We climbed back in the Bronco for a few hours sleep before dawn.
I awoke at 5:30 a.m. and the conditions outside were still foggy. I managed to rouse the rest of the group to determine what the hell our plans were now. We eventually all made it outside the Bronco by 6:30 a.m. and stood on the dock and surveyed the situation . The fog was starting to dissipate and upon looking up Kioshkokwi towards Maple Creek, ice was the order of the day as far as the eye could see. This was the direction that we really planned on heading out on this trip ... up Maple Creek to Maple Lake and return.
But the aforementioned look up the lake changed our plans completely. Looking down the lake towards Little Mink was quite similar, except a small channel of open water was close to the shoreline and continued as far as the first point, which was only about 50 yards away.
At this time, a lady in the permit office was telling us that she was open for business. She told us that a party of 2 had started out towards Little Mink the day before (destination being Mouse) and seeing that they hadn't returned, figured they at least made it to a campsite somewhere along their planned route. A quick meeting was held and it was decided that we too would head in that direction with out destination still being Maple Lake.
Photo: Left to right .. Munchkin, PH, McCart and Ken .. there was still lots of ice still on the lake! Wallpaper sized version (1024x768)
With permits secured, the contents of Bronco were quickly loaded into our 2 canoes and we shoved off at around 7:30 a.m. just as a party of 6 had arrived and were walking to the permit office.
Around the first point, the small channel of open water still continued and eventually opened into a big body of water quite near the railway tracks and trestle at this end of the lake. The big body of water was indeed euphoric to us all but it did present one slight problem ... water was so high that we couldn't get under the trestle. Therefore, an unplanned portage had to be undertaken over the railway tracks.
Now for those of you, who have never had the opportunity to perform such a portage, let me try to give you a general idea of what it was like. On both sides of tracks was an embankment of small rocks and soft sand with a grade of about 60 degrees. Trying to get our canoes and heavy packsacks over this impediment proved to be a worthy challenge, but we were up to the task. Except for some scraped hands and knees, we were once again canoeing towards the small bay to the right, where the 730m portage to Little Mink Lake started.
We were just finishing our celebration of conquering aforementioned railway tracks when we encountered more ice that Mr. Wind had blown into our small bay. Luckily, we were able to maneuver our way through and made it to the portage. This 730m portage is uphill all the way, but really isn't that bad as the trail is quite wide with no rocks or boulders hindering one's steps along the way. We completed portage and set out across Little Mink and did the 450m portage to Mink Lake. This portage was completely flat and it followed the creek that flows into Little Mink.
Once again high fives all around, for when looking down Mink we saw no signs of ice and figured only clear sailing was ahead. We saw some campfire smoke in the distance and upon canoeing around a point, saw a blanket of ice that stretched right across the lake from shoreline to shoreline. The guys at the campsite were, in fact, the guys that started out yesterday with destination being Mouse Lake. They had surveyed the situation the day before and decided that there was no way to circumvent this obstacle. We decided to survey it ourselves and found that there was open water on the other side, but there was still about 40 yards of ice first. Back and forth across the lake along the edge of the ice we went, hoping to find a weak spot that could be exploited.
Looking back up the lake we saw the party of 6 that were coming in as we left Kiosk. Eventually they met up with us and the other party of 2. We all sat in our canoes pondering what our next step would be. Again, we started paddling across the lake along the edge of the ice looking for a vulnerable spot. I spotted it first ... a small but lengthy crack in the ice that just might be what we were looking for. We backed our canoe up a long ways and proceeded to paddle furiously to put it into warp drive and we hit that small crack with tremendous force. It became a wee-bit wider. At this point, the other canoes decided to paddle over to watch our progress. Goodness sakes alive, it looked like we have a convoy! Perhaps flotilla might have been a better word, but convoy sounded more macho and adventuresome!
Photo: McCart and Ken completing the "Mink Canal" .. a convoy of canoes in the distance, bringing up the rear! Wallpaper sized version (1024x768)
We repeated this warp speed tactic over and over and it was working to everyone's delight until the final 10 yards. At this point, I pulled my trusty hatchet from my packsack. Then, with ice chips flying everywhere from the business-end of my hatchet, we busted through to open water once again. We'd recreated the Panama Canal, but we referred to it as the Mink Canal. The other canoes followed suit and down the ice free lake we went ... to find the 1190m portage to Club Lake. This portage was flat as a pancake and simply a cakewalk. At the end of this portage is an old concrete building with only its walls still standing.
Note: A later trip revealed that if you go right here, you come to a campsite with a sandy beach, spacious flat space for your tent, old rundown large wooden building, sheets of aluminum that can be used for tanning purposes on sunny days, a root-cellar still full of ice and snow on the long weekend in May, and an ancient Ford truck.
Up Club Lake we went to the 640m portage into Mouse Lake. This portage is uphill all the way. We proceeded down Mouse to the campsite near the portage to Big Thunder Lake. We planned on doing this portage after spending 2 nights on Mouse. Right behind us, the other 2 parties were also on Mouse, but decided to camp at the other end. No one was up for fishing that night as we had had quite a day and had spent a lot more energy than planned. We erected our "castle" (a 6 person dome tent), had a quick supper, hung the food packs, and prepared for a well-deserved sleep. I swore I heard PH snore ... PH swore he heard me!
Old concrete ruin on Club Lake.
Stream emptying into Club, by Mouse Lake portage.
DAY 2
I awoke to my watch alarm at 5:30 a.m. and was up and out of the tent by 9:00 a.m.! I was greeted by a sunny but rather chilly morning. Munchkin followed soon after and we rounded up some firewood and got a roaring fire going. Finally, McCart and PH crawled out of the tent as they could smell the fire, not to mention brewing coffee. After a quick breakfast of porridge, we were out on the lake in search of trout. We trolled from 10:00 a.m. until 1:00 p.m., came in for a quick lunch, and trolled again from 2:30 p.m. until 6:30 p.m. ... with not even a bite to report. Too bad the trout were not as enthusiastic as we were!
And then it happened. I had a bite and then with a quick pull of my rod, I had a fish on. Within a few moments, I'd caught my first speckled trout of the year. It only went about 7 inches. But it had speckles on it and that's what matters the most. Of course I released it, but not before telling it to send his "grandpa" back. Shortly thereafter, McCart caught another small trout about the same size as mine (also released) and I finished the night with a nice 1 pounder that was NOT released and served as a snack before hitting the hay that night. Munchkin and PH got skunked and Munchkin decided the lake needed a name change from Mouse to Louse! Back at camp we prepared to pack odds and ends for our departure from this lake in the morning. I went to sleep hoping the fishing would be much better on Erables.
DAY 3
We were up early, broke camp and were on the 1700m portage to Big Thunder Lake by 9:00 a.m. This portage starts to climb at first and eventually levels off towards the end. It ends at a small creek that flows into Big Thunder. As of this writing, I don't even remember paddling across Big Thunder but I know we had to, as I remember being on the 1645m from Big Thunder to Erables Lake. This portage is basically flat and more downhill than up. We reached Erables by 3:00 p.m. and started searching for an excellent site as it would be home for the next 4 nights.
The first site we inspected didn't measure up to our standards but the one on the island going up the lake sure did. We claimed it as ours! We began setting up camp and once it was completed we were out on the lake for another evening of fishing. We trolled all over the entire lake without even a bite. There was no one else was on the lake and we assumed Kioshkokwi was still frozen and no one could get in via Maple Creek. As it was almost dark, we decided enough was enough and headed back to camp. The mood of the group was downright depressing!
DAY 4
We were up early to another sunny, but very chilly morning. We had quick coffees and toasted English muffins with honey and then were out on the lake to fish. We decided to troll all the way up to Maple Lake and back. Not even a bite! We trolled around the island and down every bay at this end of the lake. All for naught! Nothing was happening in the trout department. We were in for lunch and back out for more abuse. We might have defeated the God of Ice on the way in, but the God of the Fish was taking out its revenge on us now! We fished till dark and then called it a night. For the 3rd straight day, PH and Munchkin had been skunked and they were in sullen moods. McCart and I were now skunked also for 2 days and our moods were not any better. Where the hell were the trout? Went to bed dreaming of catching anything that swims in this water.
DAY 5
Please re-read day 4 for an accurate account of how things went on this day! Except it was 4 days without a trout for PH and Munchkin and 3 days for McCart and me!
DAY 6
We were up early once again and a quick meeting around the fire was held. We only had 4 nights left on our trip and we had to find a lake that had some good trout fishing. It was decided to canoe up to Maple and fish that lake for the day. And if it turned out the same as Erables, we would get the hell out of here in the morning and head to Skuce Lake. We trolled and trolled and trolled on Maple to no avail ... nothing! To pass time away, I started to put a song together that aptly described our fishing experience on this lake. For some reason, I decided on the tune to "As the Caissons Go Rolling Along" and came up with some verses of my own that I write down here for posterity's sake:
Tried all my lures, toothbrush too
Even trolled with my kazoo
But there's no trout in Maple this year

Caught no perch, caught no trout
Think this lake is all fished out
There is no trout in Maple this year

I give up, I know I'm beat
You guys fish, I'm gonna eat
I vote for Dickson or Hogan next year
It was close to dark and we headed back to camp. We started a nice fire and not a word was being spoken by anyone. We were totally and undeniably one unhappy group of campers/fishermen. Munchkin got up from around the fire and dragged his small packsack over and proceeded to place his untouched 12 plastic bottles of beer by his feet. It looked like a party might be happening! I went and got my mickey of rum and peach tang to join the fun, and PH and McCart retrieved their alcohol which we only bring along for snake-bite purposes. We hadn't had any success in that category either.

After downing about 5 of his beers, Munchkin started passing them out to me and I couldn't be rude at turning down a free beer now could I? We drank them all that night and before going to bed, went down to the lake to see if we could spot any satellites in the sky. We counted 14 and then turned in for the night. However, it could have been the same satellite we spotted 14 times as I have no idea how long we were down by the lake.

I was praying for trout in Skuce tomorrow!

DAY 7

We woke up to a few small raindrops assaulting our tent but it had all but stopped once we climbed out. Camp was quickly broken. Within 4 hours, we were setting up camp on Skuce Lake. We promptly set out on the lake to fish. It was now 3:00 p.m. and raining ... not hard, but just enough to get us wet and make the fishing all that more miserable! It rained on and off the rest of the day and except for McCart catching a sunfish on a Little Cleo, nothing fishy to report. It has now been 6 days without even a bite for PH and Munchkin, and 5 days without a trout for McCart and me!

Things were getting really desperate and around the fireplace that night. It was decided that everyone could do as they pleased. I decided I would bushwhack a bit and fish some of the streams around Skuce. PH decided to go off on his own somewhere to fish another lake. McCart and Munchkin decided to stay and fish Skuce. I fell to sleep that night thinking how EXCELLENT the fishing had been on Mouse, and that we should have stayed there!

DAY 8

We awoke to another chilly morning. After breakfast, each went his separate way in search of those elusive trout. I was back in camp by 4:00 pm that afternoon with nothing to report. McCart and Munchkin were on the far side of Skuce having a rock throwing contest. I guessed their success was as good as mine. About 6:00 pm, we saw PH coming across Skuce in his 15 ft. Grumman canoe and all you could see were his white teeth and the sun reflecting off of his bald head. You could tell the lad was really excited and anxious to share his news with us.

He'd been to Little Osler Lake and had managed to catch 10 specks, 5 of which he brought back with him. None of the trout were worth writing home about, but they were trout. We ate them for supper that night. With only 1 day left on Skuce, we planned to head for Little Osler for a trout catching bonanza that just might save this trip from being a total waste of time and effort in the trout catching department. I went to sleep hoping that my drinking buddy Munchkin would manage to catch a trout tomorrow!

DAY 9

Up at the crack of dawn, we packed a lunch for our side trip to Little Osler, downed a couple cups of coffee, and were off. The 550m portage from Skuce to Little Nadine Lake was easy but the 1190m portage from Little Nadine to Little Osler was the steepest I have even been one. I made a mental note to never even think of coming this way with packsacks fully loaded, along with canoe and rest of the gear. I was gasping for breath on reaching the top of this portage. At one point on the trail, we could see the island we had camped on previously on Erables Lake. This might give you a clue as to the elevation we were at!

We proceeded to fish Little Osler and everyone, including Munchkin, started catching trout. There was nothing over 12 inches. However, they all had specks on them. We were in fishing heaven. Believe it or not, this eventually got boring and we decided to portage over to Osler Lake to see what was there. This 870m portage was downhill. It had to go down, after what we just climbed up to get to Little Osler. Munchkin and PH went down one shoreline and McCart and I down the other. Things started out very slow, but then McCart and I discovered Glory Bay. Every pass we made across this bay produced a speck. And, they were getting bigger by the minute. We were catching them in the 2-3 lb. range with consistency!

Munchkin and PH were wondering what all the yelling was about and proceeded to paddle over and horn in on our action. Talk about despicable fisherman! My old drinking buddy Munchkin was now a weasel-in-on-our-action fishing buddy! Catch and release was the order of the day and we revelled in our fortunate turn of luck.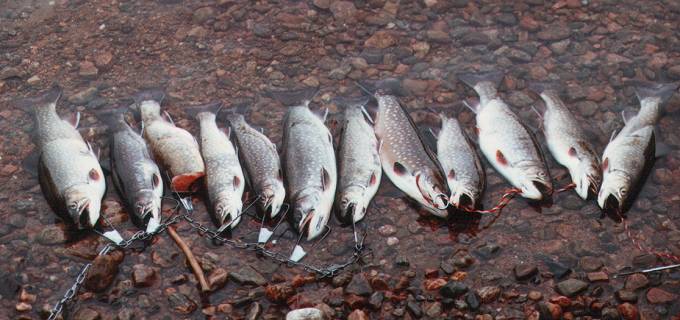 A fine catch of specks from Glory Bay, Osler Lake .. many in the 2-3 pound range.
It was now going on late afternoon so we decided to head for home. We had a nice trout dinner back at camp that evening and our mood had vastly improved from the days before. I went to sleep thinking of trophy-size specks being caught on Maple Lake, our last stop in the park.
DAY 10
Up before dawn and on our way to Maple Lake by 8:00 a.m. We found a nice site on an island just after entering the lake from Erables. We were out on the lake fishing by 4:00 PM and again never got a bite. We decided for a change of pace to backtrack to Erables and try to catch some lakers before the trip ended. We fished until almost dark and on McCart's final retrieve of his line, I am happy to report that he caught a monster 11 lb. laker which is the biggest that this group has ever caught in the Park. Other parties were now camped on Maple Lake close to us and McCart made sure everyone of them saw his brute of a trout, and he went on endlessly telling the story that surrounded the catching of this fish. I went to sleep that night contented that the trip had indeed had a good ending to it after a very depressing start!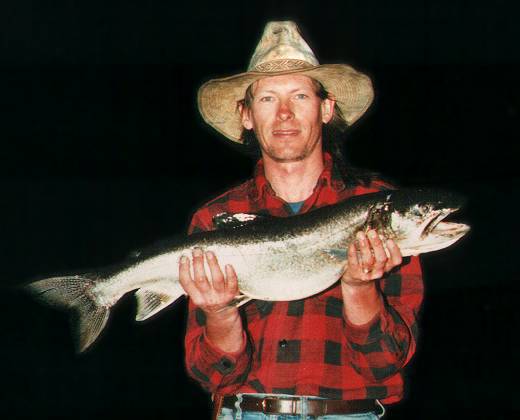 McCart's 11 pound laker .. from Erables Lake.
DAY 11
We awoke to bright sunshine assaulting our tent. The breaking of camp on the last day of any of my trips is rather sad. I know I'll have to wait another full year before the next May fishing trip commences. Slowly but surely the "castle" was taken down and neatly packed for the trip out. Rods were collapsed and put away and everything else was packed carefully. There wasn't much talk going on this morning and I guess they were all feeling the same sadness that I was. Slowly, the canoes were packed and we started our trip out down Maple Creek. There's 6 portages along this stretch of water and it's downhill all the way. Some of the portages I figure must have been used as goat paths at one time as they are very narrow and a wrong step could land you at the bottom of a cliff!
Upon setting out across Kioshkokwi, the lake was calm as soup on a platter. Just before reaching the docks from where we'd started, we had to make a dash across the lake to the safety of a cottage's porch as a thunderstorm had sneaked up behind us! We had challenged and won over the God of Ice, took an awfully long time in finally defeating the God of Fish, but didn't succeed in defeating the God of the Winds and Rains. But hey, 2-1 for us isn't that bad after all! Is it?

---
Ken Born