Farm - McKaskill - Dickson - Opeongo Trip (May 2001) . . . by Ken Born
I've read many trip logs on the Algonquin Adventures website written from the canoeist's point of view. I guess this is OK, but for me canoeing is not canoeing unless one fishes along the way. Therefore, this trip log is written from the fisherman's point of view. Rather, I should say from the fisherperson's point of view as my wife, Sheila, was my canoe partner/fisherperson/cook/dishwasher on this trip. I was responsible for the cleaning of all the trout she caught ... and there were plenty!

We started our trip in Rankin Inlet. "Rankin Inlet? Where the hell is that in the park?" you say! Well, it's not. It's situated about half way up the western shoreline of Hudson's Bay. It's where I lived at this time ... a fly-in community only of 2,500 people in the new territory of Nunavut, formerly called Northwest Territories. Many phone conversations happened between me and Opeongo Outfitters in Whitney to get this trip off the ground in more ways than one. It was a 75 minute flight from Rankin Inlet to Iqaluit; and then a 3 hour flight to Ottawa, followed by a 3 hour drive by my brother to our access point on Farm Lake. This enabled me to keep by 40 year record of May Algonquin Park canoe trips intact!

---
Day 1:
Upon arrival at our access point on Farm Lake, it was very comforting to know that Opeongo Outfitters, as promised, had dropped off a 15 ft. Scott Kevlar canoe there for our use. Speaking of Scott Kevlar canoes, I am sure others like them, but I'm not one of them. Maybe I'm too old and not up to the current times but I found these canoes rather tippy. Give me my precious 16 ft. fiberglass canoe any time ...albeit a wee bit heavier than these lightweight 50 lb. Kevlar ones. But I would rather canoe through rough water and windy conditions in my "freighter" any day!
We secured our permits, paddles and lifejackets from the Reservations Office and went off for what was to be a 16-day trip from Farm Lake to Crotch to Shirley to Ryan to Shrew to McKaskill to Hidden to Fairy to Animoosh to Dickson to Opeongo.
The trip got off to a good start as my just recently purchased $50 sunglasses (that allowed you to see into the water) were blown off my packsack in front of me by Mr. Gale Force Wind into the depths of Crotch Lake as I was looking at my map to ensure we were paddling in the right direction. On our first portage from Crotch to Shirley Lake, the portages that we'd planned as "doubles", ended up being "triples". Guess it's hard to plan a trip of this length from so far away up North. From Shirley we portaged to Ryan and eventually portaged into Shrew Lake, where we spent our first night. We fished until almost dark with nothing to report in the trout department!
Days 2 - 4:
We were up early next morning, and headed onwards to McKaskill. Doing this portage 3 times took away whatever life was still existing in my sore, aching body from the day before. It was all I could do to finish the small portage from McKaskill to Hidden Lake where we camped for 3 nights. Although not mentioned in the Algonquin Park's Fishing Book, believe me when I say, this is an EXCELLENT lake for specks as my wife and I caught more than enough for our trout dinners during our stay there.
Photo: Specks caught on Hidden Lake.
By the way, I should mention at this point that 1/3 of the meals we'd planned were of the trout variety. So if we didn't catch any, we'd just be hungry for a spell! But my stomach was not disappointed as it was treated very, very well!
Days 5 and 6:
Our tired bones were nolonger aching, as we got moving again. This time it was an easy 1550m portage to Fairy Lake (didn't see any) and then a monstrous 2825m mother of all portages to Animoosh! Before we attempted this atrocity on my once again aching and sore body, we decided to do it "single". Now that I've got your attention with my "single portage" comment and you've picked yourself off the floor from laughing too hard, we did in fact do a "single" portage to Animoosh. We tied a number of packsacks up in the trees to be retrieved when we deemed fit to retrieve them. I kept hoping, as I trudged along this murderous portage, that there really wasn't anything that we really needed in the aforementioned packsacks dangling in the treetops near Fairy Lake.
Now the story of this trip takes an unexpected turn of events. Upon dropping on the ground on the shores of Animoosh Lake from exhaustion after completing the portage, I discovered (after about 30 minutes of lying on my back with packsack still firmly in place), that the voice I was hearing from a canoe on the lake was in fact that of my brother Randy and his friend Rob. They had knew our itinerary for this trip and without our knowledge, had it all planned to meet us on Animoosh on this day.
They were, in fact, camped on the island in Cisco Bay on Dickson Lake and had planned a day trip here to meet us. And they even had beer in plastic bottles!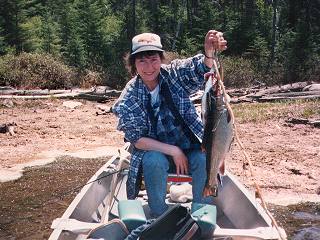 This was indeed a pleasant surprise and after celebrating our arrival with a brewski, my brother (who is a lot younger than me) offered to bring the rest of our gear over from Fairy Lake. Of course, I would have none of this ... yeah right! And I have a lumber mill for sale in Rankin Inlet (no trees there)! I was up in no time flat and directed them to where the rest of our gear was. I felt it necessary to help them carry the remaining gear back over the portage. After all, it was ours. So I carried the spare paddle that we left behind with the gear.
Photo: Sheila with her 3 pound speck caught on Animoosh Lake. Wallpaper size version (1024x768)
Our camp on Animoosh was planned for 5 nights and my brother and Rob decided to go back to Dickson and break camp and join us on Animoosh. I persuaded him to leave the beer with us as no use carrying unnecessary items over portages if you don't have to! Our site on Animoosh was excellent and we spent lots of time fishing these crystal green-coloured waters for specks. And we were not disappointed as my wife and I caught our share, with both of us catching one in the 3 lbs. plus category.
Days 7 - 9:
My brother and Rob were only able to spend a couple of nights with us. We saw them off and I even helped them with their gear over the portage from Animoosh to Dickson.I took their spare paddle a packsack as well! I must have been getting into trail shape!
There's a lake behind Animoosh called Cat Lake which has no marked portages into it, but which I have heard stories of being a very good lake for specks from my nephew, whose wife works for the MNR. I was given a general idea of how to get to this lake. I have to keep this a secret as the fishing was out of this world! But I'm sure you can find the portage off the road as I did; you just might have to search harder than me.
Our last day on Animoosh was when I had that perfect day when everything seemed crystal clear and decisions reached without any doubts. It was raining and I was soaked after just returning through the bush from Cat Lake. My wife was taking a nap in the tent and I was shivering underneath the tarp over the fireplace.
There before me were the canoe, coleman stove, tent, axe, saw, fishing gear, paddles, and trout on the stringer. It was then I knew that this is where I belong ... not up in Nunavut ..and I had to get back here to Algonquin Park as soon as possible!
And, it did indeed happen. When I returned to Rankin Inlet, I was only there for a week before I returned to Ottawa for good ... having arranged a transfer through my employer (First Air). My wife followed about a month later and it was the best and easiest decision I have ever made in my entire life!
Days 10 - 15:
The next day we portaged from Animoosh over to Dickson and set camp on island on Cisco Bay where my brother was previously. Not a bad site as no matter which way the wind was blowing, you could walk to the other side of the island and have good fishing from shore. By far, one of the top 3 lakes in Algonquin for specks! From here, my wife and I sidetripped into Little Dickson for an unbelievable day of fishing for both lakers and specks. I felt I was in fishing heaven on this lake and to make the day even more enjoyable, no one else was there.
A catch by Ken, out of Little Dickson Lake.
4 pound speck caught by Sheila on Cisco Bay.
Wallpaper size version (1024x768)
From the island, we decided to move closer to the portage that would take us to Opeongo Lake and we managed to snag a site that was fit for an army to camp on real close to the 3-miles plus portage. This site was the most spacious I ever had the opportunity to camp on. It could easily have handled 10 tents of the large size.
From there we made sidetrips to Little Crooked Lake It was a total waste of time and energy unless you like catching very small sardine-like specks. We also went to Lavieille where the fishing again was super for both lakers and specks.
Our trip was coming to a close and we had arranged for the water taxi service on Opeongo at noon the next day. We decided to take a load over that afternoon. We had now reduced our gear to double portaging as my wife is a better packer than me.
Upon reaching the shores of Opeongo, we met a group of 6 guys that were headed for Lavieille. They were somewhat tentative at first in conversing with us. They were six Russian fellows from Toronto. But my jovial personality won them over (good thing the trout fishing had been great) and it was learned that this was their first trip to Algonquin and they were headed for Lavieille for one night only and then back to Opeongo.
It was getting late in the afternoon and I talked them into staying on Dickson instead, as they were planning on fishing and paddling all the way to Lavieille which didn't leave them much time for this activity. Plus the fact, my wife and I were there the day before and all the sites at this end of Lavieille were taken and they would have had a long, long paddle to find a site.
Upon setting out back across this portage, these guys were dressed in army fatigues with one of them under the front and back of each canoe (3 canoes/6 guys) with packsacks on! After about 30 minutes, Igor asked me if we were almost there. I said we had covered about one quarter of the portage and before I got the word "quarter" out of my mouth, there was a tossing of their canoe to the ground and a lot of Russian being spoken between Igor and his partner Boris. I sensed there was something brewing here. It had turned out that Boris was the head of this group and had assured the rest of them that this was only a "walk in the park" portage of the small variety. It was nice to know that I'm not the only one in the park that has a few choice words to say on portaging when the going is not so good!!!!!
Finally, we all reached Dickson and we invited them over to our site for some well deserved beef jerky that we brought all the way from the Keewatin Plant in Rankin Inlet to hand out as souvenirs. I even gave Igor the lure of Algonquin (Williams Wabler). From their campsite on the island across from our site, the yells of delight from Igor catching trout assured me that the lure even worked at the end of Russian fishing gear!
Day 16
The next morning, we broke camp and left our Russian neighbours to the tranquil serenity of Dickson and started our last trip across the portage to Opeongo. Our taxi was waiting for us as planned, and the operator even gave us a complete tour of the lake as he wasn't that busy that day. My other brother Bob was waiting for us on the docks for our return trip to Ottawa.
As for the number of trout caught during entire trip, I'm delighted to report that even though my wife outfished me, my lines were tight more times than not.
54 specks were caught ... of which some made 16 succulent speck dinners and the rest werereleased. The biggest caught was by me ... 5 lbs. in Animoosh.
In the lake trout department, we did manage to catch 4 in Lavieille and 8 in Little Dickson. All of them were released. The biggest was 6 lbs., caught by my wife in Lavieille.
So a grand total of 66 trout were caught during this 16 day trip! As for the weather, it only rained that one day on Animoosh and the sun shone for the rest of the trip. Indeed, it was the best trip I've ever been on considering the circumstances! And I even managed to learn a little Russian to boot!
Now I have to get busy and put my other 39 May Algonquin trips on paper!

---
Ken Born