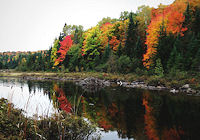 Thursday, Oct. 25th, 2012 . . . . .
Les Dempsey has put a trip-log online, of his 3-day solo loop from Cedar Lake, through Little Cedar, Aura Lee, Laural, Little Cauchon, Carl Wilson, Varley, Camp Five, Glacier, Gull, Pond Lake and back to Cedar Lake. .. Sept 28-30, 2012 Solo - Cedar, Carl Wilson Loop.
"It didn't move, but it had a certain symmetry about it, and whoa crap, are those ears?! Its a bear - and a big one. We locked eyes. Its hard to tell how close we were, because I completely tunnel visioned. All I saw was bear; standing on 2 legs looking square at me. Several things went through my mind all at once. I remember it was spooky - not scary like a vicious dog charging per say, but like I just saw Bigfoot or a mystic person."