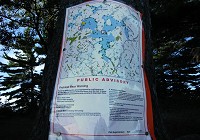 Tuesday, July 10th, 2012 . . . . .
Last year, Sam Barkwell participated in a Camp Wendigo 11-day canoe trip. It looped from Cache Lake north through Burnt Island, Burntroot, Cedar, Allan, Francis, North River, Lavieille, Opeongo, Little Rock, and Lake of Two Rivers .. returning westward to Cache Lake via the Madawaska River valley. His trip-log is on his own blog and is packed with great "clickable" large photos .. 11 Days: Cache to North River and Back
"The site was very nice, but was we were setting up, one of our guides noticed that there was a bear warning sign on the site. The sign was old, and by now, packing up and searching for a camp site could just leave us searching for a site at 7pm with the sun going down. We decided we would have to play it very safe and always travel in pairs with whistles."