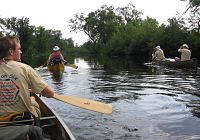 Thursday, March 15th, 2012 . . . . .
"SmedleyCo" has posted a triplog of his 15-day July 9 - July 24, 2011 Meanest Link Part One on his website .. www.smedleyco.com .. in which he and five others travelled July .. from Huntsville, up the Big East River into the park, to McCraney Lake, Ralph Bice Lake, Tim Lake, Nipissing River, Cedar Lake, Petawawa River, Radiant Lake, Petawawa River, Crow River, Lake Lavieille and finally Lake Opeongo.
"Travel today was a lot of little lakes with long portages between them and leeches at every shoreline. Now six days in, the rhythm and routine was comfortable and I was really enjoying the area which is all black line portages. In fact the portage to Iagoo Lake GPS'd out to over 900m instead of the 610m it is marked with. It seemed that a lot of the portages in this area were following old logging roads."