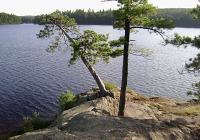 Monday, March 14th, 2011 . . . . .
Rory Leidecker and crew set out for a week-long trip .. ... 8 Days out of Access #3 ... August 16–23, 2010 ... via Ralph Bice, Little trout, Queer, Misty, White Trout, Big Trout, Burntroot, Catfish, Hogan, LaMuir, Big Trout, White Trout, Timberwolf, Misty, Daisy and back.
"After loading the canoe and shoving off onto Manta Lake, we took turns eating lunch. We fueled up on granola bars and GORP. While one person ate, the other kept the canoe in the shade. It was the middle of the day, humid, and uncomfortably hot in the sunlight for two guys so soon after a 750m portage. The longest portage of the day awaited us on the other side of the lake, but there was still plenty of time and daylight for us to reach Hogan Lake, our destination for the day."