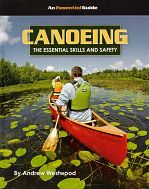 Friday, February 11th, 2011 . . . . . Announcing an addition to the Resources/Publications section .. Canoeing - The Essential Skills and Safety by Andrew Westwood.

This 142 page, full-colour book, is written by Andrew Westwood of Ottawa, Ontario. Andrew has put together a comprehensive book including canoe equipment, clothing, portaging, accessing, essentials, strokes, maneuvering and safety practices. He's made good use of a sequential point-by-point layout. The book is superbly illustrated with colour photographs by Paul Villecourt, of Andrew demonstrating the various techniques.

Andrew's sequential layout clearly breaks each technique down into well-explained, illustrated and numbered steps. This book does a superb job of explaining the full range of canoeing skills available.