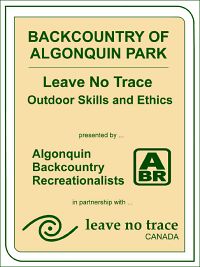 Monday, April 12th, 2010 . . . . .

The Algonquin Backcountry Recreationalists are proud to announce their online release of the "Backcountry Of Algonquin Park - Leave No Trace Outdoor Skills and Ethics" guidebook. It's an eleven page presentation, made in partnership with Leave No Trace Canada .. taking the reader through the seven principles of Leave No Trace, as they apply to Algonquin Park's backcountry and its unique circumstances.

Algonquin's backcountry is a delicate network of wilderness-like lakes, watercourses, protected zones, watercourse setbacks, campsites, portages and trails. Polluted water, displaced wildlife, eroded soil, and trampled vegetation are just some of the impacts linked directly to recreational activities. Considerable damage could be prevented if all recreationalists were well informed, complied with regulations, and applied Leave No Trace skills and ethics.

The application of Leave No Trace principles and practices extends common courtesy and hospitality to other backcountry visitors and to the natural world of which we are all a part. LNT principles are based on an abiding respect for nature. This respect, coupled with good judgement and awareness, allows us to apply the principles to our own circumstances.

The guidebook can be downloaded at the ABR website .. www.abrweb.ca.