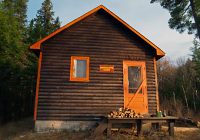 Wednesday, March 10th, 2010 . . . . .
Back in 2008, Markus Rubino and Mike Burns took a 10-day canoe trip out of Kawawaymog Lake (Access Point #1) to the Birchcliffe Ranger Cabin. Their trip took them down the Amable du Fond River, across North Tea Lake to Biggar Lake, and then against the current up the tangles of Birchcliffe Creek. Markus has put together a super-big-read and well-illustrated trip-log of this spring trip .. "Birchcliffe Cabin".. a great addition to his website.
" .. there in the shadows of the blinding setting sun, we spied a cow moose feeding in the shoreline shallows. There was moose all over the lake! We saw more moose than people in the last four days; Moose 4, People 0. We hadn't seen anyone since our first night on Biggar Lake. We hadn't seen anyone in four days. It was sweet, there was nothing but good fresh air and the silence all around."