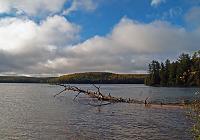 Tuesday, February 3rd, 2009 . . . . .
Markus Rubino has added an account of a 2006 trip to his website. It was a 22 day trip with his friend Joan. They headed out of Opeongo .. looping via Merchant, Big Trout Hogan, Big Crow, Lavieille and Dickson Lakes. It was during September. And, the trip included more than its fair share of rain and high winds .. "Access #11 Lake Opeongo 2006".
"I heard a loud crack and looked up. Up there among the tree-tops, the wind was blowing so hard, the rain was blown into a white mist, the tree tops bending sharply. I had never seen rain turn white before, before I could think more about this, another loud crack resounded, followed by the whine of bending timber. I watched a large Hemlock tree start to fall directly towards me! I could see the top of the tree falling before me ..."