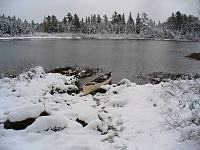 Wednesday, November 12th, 2008 . . . . .
Ray Piercy headed out on a late October, twelve-day solo trip. Between iced-up water, snow storms, sub-zero windchills, two foot waves and an unexpected 'rescue' .. he now thinks his next autumn solo trip will probably be in September. Originally posted on the CCR forum, Ray has supplemented his original trip-log with some extra photos .. Late October Algonquin Solo
".. an OPP helicopter passed over me coming from the south west, turned over the trees to the east of me and then returned from the direction it had come. I thought this was strange, to see two helicopters in the same day. About 30 minutes later a motor boat approached me across the bay, moving slowly because of the large waves."