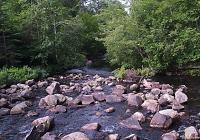 Thursday, September 4th, 2008 . . . . .
Jeffrey McMurtrie has published an online trip-log of his 19 Days in Algonquin Park .. July 18 - August 5, 2008 looping out of Canoe Lake, via Drummer, Panther, Clara, McCraney, Islet, Daisy, Misty, Big Trout, LaMuir, Hogan, Big Crow, Red Rock, Happy Isle, Otterslide and Burnt Island Lakes.
"Upon reaching the beginning of our next portage, the longest of the day at just over 1400m, we look some time to look at the dam controlling the level of the Big East R, and, by extension, Lake Vernon in Huntsville. One can tell that this dam is not modified very often because the padlock on the wheel controlling the dams level is rusted almost beyond recognition. Some people supposedly white water canoe on this river - I can only imagine that to be a rocky journey .."