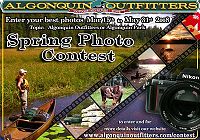 Saturday, March 15th, 2008 . . . . .
One of the Algonquin Adventures advertisers, Algonquin Outfitters, is hosting a photo contest from March 15th to May 31st, 2008. You can submit your favorite photo(s) taken in Algonquin Park or showing Algonquin Outfitters canoes or events, to enter to win prizes.
A winner will be chosen June 2nd, 2008. Photos need to be at least 1024x768 in low compression jpg format and should not be any larger than 2mb each, if higher resolution.
Here's their contest entry page ... www.algonquinoutfitters.com/contest