Friday, November 16th, 2007 . . . . .
Back in September of this year on the shores of Booth Lake, an idea was given birth. It was to develop a formal association representing the interests and concerns of recreational users of the interior of Algonquin Park.
Over the following weeks, momentum was achieved through the direct participation of Laurie March, Sean Rowley, Mark Steele, Mark Rubino and Barry Bridgeford.
The tentatively named Algonquin Park Recreational Users Association is in pre-formation discussions, currently establishing its final name, mission statement and primary goals. The website, its supportive forums and the entire initiative was officially launched earlier this week.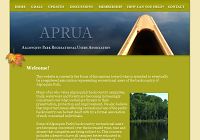 Laurie March (operator of www.outdooradventurecanada.com and www.gjstudios.com) is being extremely supportive by providing continuing technical and organizational support in the form of both sophisticated online discussion forums www.outdooradventurecanada.com/aprua/forum/ and the groups own professionally designed website www.outdooradventurecanada.com/aprua/.
If you are an Algonquin Park backcountry recreational user, you're invited to check out the group's website, to consider taking part in its discussions and to help the process through its planning, formation, registration and promotional phases .. and into its ongoing operation.
Together we can all make a difference!