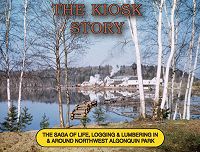 Wednesday, November 7th, 2007 . . . . .
A new publication has been put out by Doug Mackey (Past Forward Heritage Limited) ... The Kiosk Story: The Saga of Life, Logging & Lumbering In & Around Northwest Algonquin Park (112 pages / 8.5" x 11" / Over 200 photographs).
"The Kiosk Story looks at the history of the Northwest corner of Algonquin Park and surrounding area. From the early Native activity of Chief Amable du Fond and his descendents to the current activity as an Access Point, it has been a dramatic tale of growth and loss, Native presence, lumber entrepreneurs, the railway, tourism and changes in Park philosophy."
There's also a special edition available that includes video on DVD ... a collection of films of the mill, woods operation and the town .. finishing with spectacular shots of the fire in 1973.