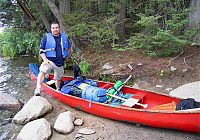 Monday, May 21st, 2007 . . . . .
In July of last year, Jeff Wilson and his buddy Luc headed for Three Nights on Little Trout Lake, for a relaxing and well-fed stay. As it turned out, they had encounters with intense rain during their stay and with heavy winds during their return across Ralph Bice Lake.
"Somewhere around 2:30 PM, it finally started to rain. And did it EVER rain - almost harder than it had on the day we arrived. This rain brought with it cooler temperatures so we hunkered in under our fire-pit tarp once again to ride out the storm." ...
... "When we hit Ralph Bice Lake the waves were so high we considered walking the perimeter of the lake and dragging the canoe. We knew, of course, that this would not work Ė so we dug in, and pointed ourselves directly into the waves."