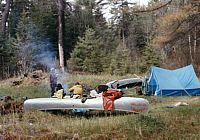 Monday, March 26th, 2007 . . . . .
Bob & Diana McElroy have added a 30+ year old trip-log to their Bush Log website. Bob, Diana, Phyllis and Herman did the 12 day - Canoe Lake to Brent and Return 1976 May 14-25 canoe trip .. via Burnt Island Lake, Otterslide Creek, Big Trout Lake, Burntroot (Portal) Lake, Whiskeyjack Lake and the Nipissing River .. across cedar Lake to Brent .. returning by the Petawawa River, Catfish Lake, Burntroot Lake, Big Trout Lake, Trout Lake, Sunbeam Lake and Tom Thomson Lake.
"In those days the route from Whiskeyjack to the Nipissing was via a 3700 yard portage that came out just above High Falls; the current route via Remona Lake didn't exist (or at least, it wasn't marked on the map). On the 3700 yd portage, there was a creek crossing that consisted of a single log elevated several feet above the water. The day was wet and the log was slick and Diana ended up on her back in the creek. Luckily her fall was broken by her Duluth pack, and Bob and Herman were handy to effect a rescue."