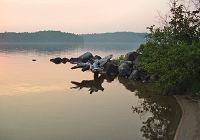 Saturday, December 16th, 2006 . . . . .
Markus Rubino has added a very detailed trip-log to his www.markinthepark.com website. Between June 24th and July 3rd of 2005, Markus solo'd out from Kawawaymog Lake (Access Pont #1) to North Tea Lake .. from where he looped through Lorne, Kakasamic, Mattowacka, Fassett, Shada, and Manitou Lakes .. to finally return via North Tea Lake. High temperatures, high humidity and a high bug-count tested him repeatedly. Markus tells us of some serious lessons learned in his Fassett Lake Summer Loop .
"I didn't understand the dynamics of heat exhaustion or even heat stroke, but I was aware of the symptoms. The chills were the result of my body's cooling system shutting down. I was over heating...heat exhaustion. I still couldn't understand why, I was well hydrated. I walked back slowly to the creek, more chills wracking my body. Finally I reached the creek and sat in the middle of it, on a rock ... I dangled my feet in the water, and soaked my t-shirt, and wrapped my head with it. For 45 minutes, I sat on a rock semi-naked under the blazing sun. Drinking straight from the creek, I slowly began to feel better."