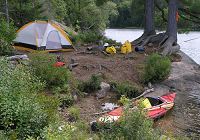 Wednesday, Sept. 6th, 2006 . . . . .
Jim FitzSimmons has placed his Algonquin Journal - 2006 online. It's a very well written and photo-illustrated account of his solo 5 day "folbot" trip from Rock Lake .. through Pen, Welcome, Harry, Rence, Frank and Florence Lakes .. then through Lake Louisa and back to Rock Lake.
"Shortly after putting in on Frank Lake, I arrived at the only campsite on the lake, a quite nice one. The site is on a granite island and features beautiful swimming rocks, a 300-degree view of the lake (including cliffs to the east), wild blueberries everywhere, two nice tent sites (I chose the one out on the point), and twin mature white pines (with intertwined roots) that serve as a landmark for the site. This site makes it into my top five Algonquin sites ... What a great view from my campsite! I went to bed around 10:00 with a great big smile on my face. I have been looking forward to this site since I made the reservation in March. How often do you get to stay in a campsite where you are the only person on the lake?"