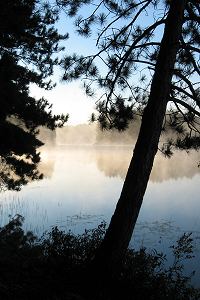 Tuesday, August 29th, 2006 . . . . .
The message-board (forum) has been getting a good number of "mini-trip-logs" and "photo-postings" lately. It's really great to see such a high level of use. However, when one looks down to the tremendous number of "pages" of postings at the bottom of the message-board's front page, one can't help but think that these "mini-trip-logs" and "photo-postings" are getting buried amongst the regular chit-chat and info exchanges. In a few weeks we'll be hardpressed to locate these "lost gems".
As a result, would those who posted them please consider polishing them up to regular trip-log, photo-essay, photo-collage or commentary article status .. and submitting them for permanent inclusion in the Trip-log Inventory, Photos or Resources section?
Just because we don't go on calendar-busting long trips, doesn't mean our photos, recollections, observations and opinions aren't equally valuable Algonquin Park resources!
Those of us who can't get away for more than a few days at a time and typically spend two or more nights at one location, are encouraged to submit their young-family, senior-groups, basecamp-daytripping and just plain rest-and-relaxation experiences .. in written and/or illustrated form as submissions for permanent content in the Algonquin Adventures website.
Trip-logs continue to be a valuable resource for serious "trippers". However, hopefully we can collectively develop alternative means of sharing a broader range of Algonquin Park experiences within the formal Algonquin Adventures website.
Please email canoe@algonquinadventures.com with your submissions!