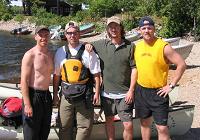 Friday February 10th, 2006 . . . . .
In 2004, Robert Hardy and the "Tuna Can Express" went on their "guitar-toting" Kiosk--Erables Loop .. a 4 day trip out of Kiosk .. through Maple Creek, Maple Lake, Erables, Big Thunder, Mouse, Club, Mink, Little Mink and back to Kiosk. Robert even includes the trip's food menus and expense list .. unexpected "extras".
"Our first day had a total of 7 portages, on one portage I went to take a step down onto what I thought was just a muddy bank. Turns out it wasn't and I fell into the water, or at least partially as my back pack managed to anchor me to the shore. For the first few minutes the mud was thick enough that I actually couldn't get out. The guys were nice enough to leave me there, laughing and taking pictures." "