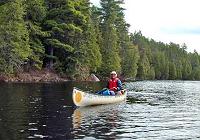 Sunday June 12th, 2005 . . . . .
Markus Rubino now has his two latest trip-logs online!
The first trip was a 5-day loop (May 12th to 16th) from Rock Lake to Pen Lake .. then west to Welcome Lake and Harry Lake .. finally to Lake Louisa and then back to Rock Lake. Check it out on on Murkus' own website .. www.markinthepark.com .
Markus' next trip started the very same day that his previous one ended (May 16th to 22nd) .. from Lake Opeongo, to Dickson Lake and on to White Partridge Lake. This is Markus' account of his journey to eventually meet up with the "Born Party" .. as also recounted below in Express to White Partridge. You can also access it directly on Markus' website .. www.markinthepark.com .
(Editor's note: Markus, Randy, Rob, Ken and Sheila have added a unique chapter to Algonquin Adventures .. sharing their individual experiences, meeting online, co-ordinating their rendezvous-trip and then sharing it all with the online Algonquin community . . . thanks to you all - Barry.)