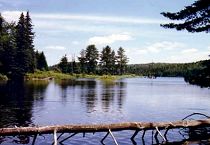 Friday, February 20th, 2004 . . . . .
Bill and Betty Lennips have been regular contributors to Algonquin Adventures, sending in camp recipes and photos. Now, they have their own website "Life In The Boondocks" at www.mooserack.ca.
As well as containing a trip-log of a 2003 trip from Kiosk to Cedar Lake (a link to which is being added to the inventory), their website contains great content covering a wide range of a topics .. When to go camping .. Portaging .. Choosing a Campsite .. Camping equipment .. Building a Campfire .. Comforts of Home .. Menus .. Campfire Baking .. Curing meats .. Snacks .. Fishing.
My favourite section is Betty's Algonquin Poems .. a wonderful blend of poetry and Algonquin photos.