Monday, October 13th, 2003 . . . . .
Back on September 20th, I posted notice of the upcoming "First Information Centre - Algonquin Park Forest 2005 - 2025 Forest Management Plan". The 'First Information Centre' opportunities for public review and commentary are scheduled for the next two weeks (October 21st to 29th) at locations across south-central Ontario, by the Algonquin Forestry Authority.
Gordon Cummings (AFA Chief Forester) has assured me that the 'planning team sessions' in Toronto and Ottawa are being conducted in the same manner as the 'information sessions' in Huntsville, Mattawa, Pembroke and Barry's Bay. The same materials and staff members should be present at all the locations. So, if you have curiousity, concerns or questions about the 2005 - 2025 Forest Management Plan for Algonquin Park ... try and get to one of the sessions. They're being held between 3pm and 8pm at the following locations ...
Huntsville at the Holiday Inn Hidden Valley, 1755 Valley Road (Tuesday, October 21st, 2003).
Toronto at the Travelodge Hotel, 2737 Keele Street (Wednesday, October 22nd, 2003).
Mattawa at the Royal Canadian Legion Hall (Thursday, October 23rd, 2003).
Pembroke at the Pembroke Catering Hall, 307 Julien Street (Monday, October 27th, 2003).
Ottawa at the Travelodge Hotel, 1376 Carling Avenue (Tuesday, October 28th, 2003).
Barry's Bay at the Royal Canadian Legion Hall (Wednesday, October 29th, 2003).
---
Tuesday, October 7th, 2003 . . . . .

Another very entertaining trip-log by Chris Lawson. This time Chris has documented his September 5 - 8, 2003 solo-trip out of Brent. His Cedar Lake Loop took him across Cedar Lake, up the Petawawa River, through Catfish and Burntroot Lakes ... then back down the Nipissing River. Chris has created another thoroughly enjoyable trip-log.

---
Tuesday, October 7th, 2003 . . . . .

Chris Lawson has sent in the URL for the trip-log of his June 21 - 25, 2003 canoe trip by Irene Jansen and himself out of Kiosk ... looping through Kioshkokwi, Manitou, North Tea, Biggar, Three Mile and Maple Lakes. Kiosk Loop not only has great photos and a slick layout design ... it's also written in an enjoyable and light-hearted style.

---
Monday, October 6th, 2003 . . . . .

Jim Fitzsimmons has submitted his lastest trip-log's URL to the inventory. Voyageurs Journal - 2003 describes a four day stay in early July at the walk-in campsite area at the south end of Kingscote Lake. It was a special exploratory introduction to Algonquin Park for 2 year old Billy and 3 year old Stephen.

---
Friday, October 3rd, 2003 . . . . .
Thomas Haapapuro submitted his trip-log's URL to the inventory. The Algonquin Adventure recounts his August 2003 nine-day loop out of Canoe Lake through Burnt Island, Otterslide, Big Trout, White Trout, McIntosh and Tom Thomson Lakes. His humorous narrative and superb photos combine to make this an enjoyable read.

---
Wednesday, October 1st, 2003 . . . . .

Matt Stewart sent in the web address of his Ofoto Album of Algonquin Photos. A couple of them that he took on a trip last year to the McKaskill Lake cabin are particularly interesting. I've emailed him a request for more information about that trip which appears to have been via forest access road..

---
Saturday, September 20th, 2003 . . . . .
I received an "open letter" from John Winters, the Superintendent of Algonquin Park ... addressed "to people with an interest in forest management planning in Algonquin Park".
On its reverse side, is notification of the "First Information Centre - Algonquin Park Forest 2005 - 2025 Forest Management Plan".
Considering the notification's references to "preferred management alternative" and "optional areas for harvest", it appears to be an important process to be informed about, to keep track of and to possibly participate in.

---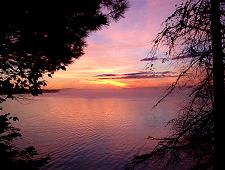 Saturday, September 13th, 2003 . . . . .
Nancy Johnston sent in a somewhat chilling account of an accident that happened to her brother while on a trip to Algonquin, this past long weekend.
"The plan was to water taxi across Opeongo Lake, then to portage into Happy Isle Lake and spend a couple of days there . . . . . . . Geoff made it to the hospital and is doing fine. In total he had 17 stitches and has lost the use of his middle toe. "
As Nancy says ... "Hopefully, it will make a few people think twice."
Find out how Geoff missed the beautiful sunrise over Opeongo Lake . . . A Lesson Learned.
---
Thursday, September 4th, 2003 . . . . .
Tom Yates has submitted a trip-log of a 5-day trip that he and his friends made from Access Point 14 to Dividing Lake (August 5 to 9, 2003) .
"Our tents were on three levels, one down by the fire pit, one halfway up the hill and one at the top on the trail to the "treasure box". It was a great site with a full view of the lake and plenty of seating areas."
"When they got back to camp we realized that they had been into Dorset for lunch and a beer, but that they had brought back a chicken for dinner and a dozen eggs and bacon for breakfast."
It certainly wasn't your typical Algonquin canoe trip. Check it out at ... The Yates Group Trip to Dividing Lake.

---