---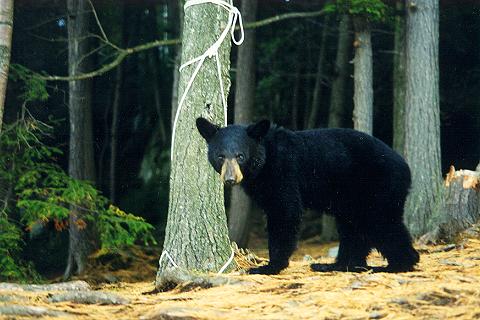 Wednesday, July 2nd, 2003 . . . . .

Steve Trowbridge just emailed this in . . .


"This bear strolled right into our site on Pen Lake. He'd been cruising the shoreline. After poking around our site; he came over, looked up at our food pack, took a big wiff and then looked right at me. That's when I snapped this shot. You can see where our food pack was tied off to the tree.


The bear surprised us when it came into our site. I'd just come out of the tent and was messing with my photo gear when I turned to see this bear by the tent. I had a buddy still in the tent and one down at waters edge.


All the yelling wouldn't scare this bear away. After he realized we were serious about a bear in the site, my buddy decided he didn't want to be trapped in a tent and started to make moves to get out. The bear stopped dead and just stared at the tent for about 10 seconds at the rustling. Then it just jogged away down the shoreline.


Photo was taken at about 8:30am on Saturday Sept 29 2001 with a Nikormat manual camera, Kodak 200 speed film and a 43-86mm zoom."

---
Sunday, June 30th, 2003 . . . . .

A couple of panorama photos are added to the "Photos" section. You can access them directly from here if you wish.
---
Sunday, June 30th, 2003 . . . . .

Here's the 2003 Fish Stocking List For Algonquin Lakes, courtesy of the official Algonquin Park printed tabloid. Incidentally, the previously separate highway corridor and interior tabloids have now been combined into a single publication.

Brook Trout
Splake
Black Fox
Bluff
Cecil
Cloud
Farm Bay
Faya
Fisher
Gem
Jake
Leaf
Length
Little McCauley
Little Minnow
Marie
Marmot
Milon
Myra
Randall
Sandy
St. Anthony
West Smith
Billy
Brewer
Bruce
Bud
Claude
Coon
Costello
Ermine
Fork
Found
Grant
Grape
Hartley
Heron
Hilliard
Jack
Langford
Maple Leaf
Ouse
Peck
Provoking
Rosepond
Rowan
Ryan
Sam
Speckled Trout
Sproule
Sunday
---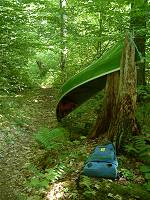 Friday, June 28th, 2003 . . . . .

Well, summer is finally here! And what a first week it was in Algonquin ... a late hatch of black flies coupled with temperatures into the "old" nineties.

This old bird found himself in solitary possession of Pinetree Lake, hold-up at its southmost campsite. Double-carrying down the 1850 meter portage from Highway 60 had taken a slow-paced two hours. The put-in proved to be a tricky affair over a shore-bound mess of logs.

Pinetree is a deceiving complication of bays and channels; so paying close attention to map and compass was a must. The heat and a contrary headwind combined with my lazy gladness just to be back in the park, slowed my paddling down. But, after a good hour, I was sloshing ashore with line in hand.

With explorations limited to the "less-hot-and-windy" mornings, I was back to camp by early afternoon for lounging, swimming and reading ... getting to be typical of my first trips of each summer ... spiritual "R&R" after a long winter.

I kept a critical eye on the weather as it intensified daily. Having arrived Monday, my plan had been to leave Friday. However, I shortened my stay due to the double prospects of spending Thursday night on the campsite fully exposed to the southwest wind and threatening weather ... and of then having to return Friday up the portage's creek-overs and muck holes after an overnight downpour. So, home a day early ... watching that evening's weather broadcast showing Doppler radar imagery of high intensity storms hitting that very part of Algonquin right on the mark! Ouch!

If anyone's got tales of extreme weather experiences in Algonquin (with or without photos) how about sharing them ... either by email submission or on the message board?

I took some photos of the area. You can check them out in the "Photos" menu under "Pinetree Lake".


Barry Bridgeford (Site Host)
---

The Algonquin Forestry Authority, Ministry of Natural Resources and Algonquin Park Local Citizen's Committee are inviting the public to participate in the preparation of the 2005-2025 Algonquin Park Forest Management Plan. This plan will outline the long-term strategic direction for the management of the forest. It will also include the details of harvest, renewal and tending operations and access road locations for the first five-year term 2005-2010.

Opportunities are being provided for access to the information which will be used in the forest management planning process. The public's views on the desired benefits to be achieved through the management of the forest, plus any contributions to the background information for the plan's preparation, are being requested.

For further information, including tentatively scheduled formal public involvement opportunities, check out the invitation to participate at www.algonquinforestry.on.ca/invitation.html

---

The new 2003 - 2004 Algonquin Park Forest Management Unit's Harvest Schedule is available at www.algonquinforestry.on.ca/pdf/webmap.pdf . It looks like they'll be some substantial Spring-Summer logging activities in the following areas ...
- Between Galeairy and Cauliflower Lakes.

- Between Madawaska and Billings Lakes.

- Due east of Rosebary Lake.

- Due east of Lake la Muir (between Hogan and Merchant Lakes).

- Due east of Dickson Lake.

- Midway between Hogan and Radiant Lakes.

- South of St Andrews Lake.

- West of Gilmour Lake.

- Northeast of Radiant Lake, in the Bissett Lake area.

- North of the Petawawa, between Radiant and Lake Travers.
Check the map for details, smaller pockets and fall-season scheduled logging activities. Logging is an established part of Algonquin. Plan your trips away from the sounds of saws, machinery and trucks.
---
Barry Bridgeford (Site-editor)